Our Packages
You will receive professionally created DVDs with features you would expect to see on a commercial movie DVD.
Opening Highlight Clip
Custom Motion Menus with Graphics
Chapter Markers for fast access to your Chapters
Scene / Chapter Menu
Custom label Printed on the DVD - no paper labels to deteriorate
Custom made cover insert with hard case
And, features you will not find on commercial DVDs.
Demo mode (randomly plays one chapter and returns to the Main Menu)
Play All
Play All Continuously
All scanned photos are included on the DVD for use with any computer.
Any photographs taken are included on the DVD for use with any computer.
All Packages include:
Free Six Month Screening Room on LifeIncluded.com (with password access) - Your complete DVD on your very own area available world wide!
Eight DVDs in hard cases (can be individually personalized)
Master DVD with all recorded unedited footage.
We can customize your DVD any way you want it! With High Definition Video becoming more popular, choose our Blue Ray DVD option.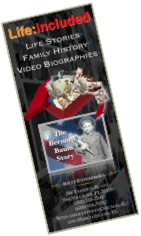 If you would like a brochure, we can send you one by using our
Contact Us page
or you can
download one
instantly.
Our packages start at $5,995.